Everyday in Deeping St James someone goes above and beyond the call of duty with a kind word or gesture that suddenly makes the world a better place to be in. Nominate them now!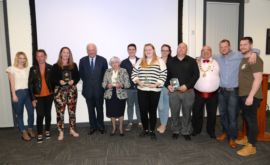 Making a Difference Award winners 2019
The Annual Parish Meeting of Deeping St James took place in the Conference Centre at The Deepings School, on Tuesday 23 April 2019.
Guests speakers included Louisa Crowson Library Co-ordinator from Deepings Community Library, Michael Cross Head of Arts at InvestSK, Paul Hanson Chair and Cass Wales Youth Leader from Deepings Youth Group, Sargent Emma Crisp and volunteer Christine Halls from the Neighbourhood Policing team
The 2019 Making A Difference Award trophies were presented by Her Majesty's Lord Lieutenant Toby Dennis to -
Deeping United Football Club - Community Group
Alice Tiegh - Young person
Noreen Scattergood - Individual
Sally Donaldson - In the course of doing their job
Thanks go to all the speakers, nominees and attendees